Speech Synthesis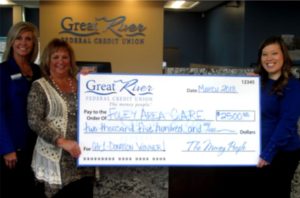 Neighbors helping neighbors is what CARE – Community Action Respecting Elders is all about!
CARE would not have the opportunity to meet the needs of seniors without the gracious financial support of local businesses, organizations, churches, and private donors. Government and foundation grants are another source of income that is available to CARE, but these grants provide funds for very specific areas, many of which are not services for seniors. Your individual contribution is vital to provide seniors with services that make it possible for them to continue living independently in the home of their choice.
CASH
A gift of cash is an easy way for you to make a gift to CARE. You can make an immediate impact on our mission and benefit from a charitable income tax deduction. Checks should be made out to CARE and mailed to: CARE, PO Box 65, Foley, MN 56329
STOCK
Donating appreciated securities is a great way for you to make a gift to CARE. You can deduct the full present fair market value and you owe no tax on the appreciation in value. Stockbrokers require delivery instructions in writing.
Please also contact Connie Cardinal, Executive Director, at (320) 968-7848 or conniec@CAREelders.org with your name, type of stock, and the number of shares so we can provide documentation for your tax deduction.
LIFE INSURANCE
A gift of your life insurance is an excellent way to make a gift to CARE. If you have a life insurance policy that has outlasted its original purpose, consider making a gift of your insurance policy. Contact your insurance provider, request a beneficiary designation form and include CARE as the beneficiary of your policy.
BEQUESTS IN ESTATE PLANNING
Including CARE-Community Action Respecting Elders in your will is an easy way to make a generous gift to CARE. In your will, you have choices about how you name CARE as a beneficiary.
You may wish to leave a fixed dollar amount to CARE. You will need to specify exactly how much you would like the organization to receive.
Another popular option is to give CARE a percentage of your estate. This makes good sense if you don't have a clear idea of how much your estate will be worth at your death.
Sample language for Wills & Trusts:
I give and devise to CARE-Community Action Respecting Elders, a not-for-profit corporation of the State of Minnesota, _____ percent of my estate (or the residue or the sum of money $______; or the properties, securities, etc. described herein) to be used for its unrestricted purposes, or for its endowment.
If you already have a will it is very easy to add a codicil to your will, which designates CARE as one of your beneficiaries.
IRA DISTRIBUTIONS
At age 72, IRA owners are required by law to take mandatory minimum distributions. An increasingly popular way to make gifts tax-free, transfers to CARE must be made directly from the IRA or by writing a check from the IRA up to a $100,000 limit. Now that the IRA Charitable Rollover legislation is passed permanently, this enables donors to plan each year in advance. Please find a sample letter of instruction for your financial institution here.
RETIREMENT PLAN ASSETS
Donating part or all of your unused retirement assets such as a gift from your IRA (IRA charitable Rollover), 401(k), 403(b), pension or other tax-deferred plan is an excellent way to make a gift. Benefits of gifts of retirement assets:
Avoid potential estate tax on retirement assets
Your heirs would avoid income tax on any retirement assets funded on pre-tax basis
Receive potential estate tax savings from an estate tax deduction
To leave your retirement assets to CARE, you will need to complete a beneficiary designation form provided by your retirement plan custodian. If you designate CARE as beneficiary, we will benefit from the full value of your gift because your IRA assets will not be taxed at your death. Your estate will benefit from an estate tax charitable deduction for the gift.
Full Legal Name of CARE: CARE-Community Action Respecting Elders
Federal Tax I.D. Number: 56-2328479
Ask your financial advisors for help in choosing the best way forward for your personal planned giving. Please let us know if you have included CARE in your plans.