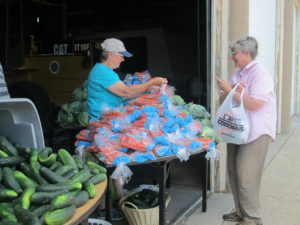 There is always something happening at CARE. We plan and host programs to help benefit the seniors in our community.
Fresh Produce Distribution
The CARE program works in collaboration with Second Harvest Heartland and local farmers to provide free fresh produce and baked goods from July thru October. Food distribution is held on the 2nd Monday of each month at the CARE office from 11:00 am – 1:00 pm. Free fresh produce is available for participants of all ages with no preregistration or income guidelines.
To volunteer for fresh produce distribution call 320-968-7848
NAPS
CARE is the Benton County distribution site for this USDA program, which is funded by citizen tax dollars; seniors have been funding this program all their lives with their hard work, now it is their turn to receive the benefits it provides.
This program gives one free box of food to each qualified senior on the second Monday of every month throughout the year. Seniors can pick up their box between 11am and 1pm, or request delivery in advance.
To register a senior for this program, please call the CARE office at 320-968-7848
NAPS COVD-19 response: this program will continue, with some changes in the way the food is distributed, in order to keep both volunteers and seniors safe:
The CARE front office door will be locked.
Clients will enter the building through the service delivery door on the south side, facing the parking lot.
Clients must wear a mask and remain six feet away from staff and other clients who are here to pick up their box of food.
Cheese will be picked up at the front table; please give the CARE volunteer your name, and they will sign you in.
There will be no handling of cards or chips by clients or volunteers.
Clients will then drive to the garage door next to the front of the CARE office, and open whichever door of your vehicle you wish the box of food to be placed into. Please remain in your vehicle while the volunteer places your box of food in the compartment you have chosen.
Art Classes – cancelled due to COVID
Come join the fun and spend the afternoon with friends. Participants will complete a project while learning basic tools and techniques of art. The experience will change the way you view the world around you. The class is free but limited. Contact CARE at 320-968-7848 to reserve your space.
Fun & Fitness for Seniors – cancelled due to COVID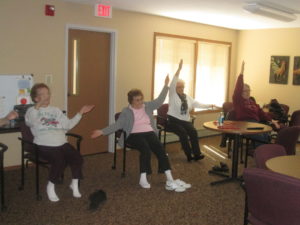 Movement can help increase mobility, flexibility, balance, improve sleep and mood, and boost self-confidence. Social contact with others increases well-being, improves cognition, boosts creativity, and also lowers stress. So come join CARE every Tuesday & Thursday from 1:30 – 2:30 pm at Dewey Place Apartments. All Seniors are welcome, just call 320-968-7848
Dementia Education – cancelled due to COVID
Join CARE for a journey that will help give you some understanding of the aging process, some "why" behind what dementia brings to the table, and some Caregiver clarity that will sustain even the most burnout Caregivers.
PEARLS Program
Are you experiencing low moods or depression? Are you feeling isolated due to COVID-19? Free assistance is available for you!
CARE works in partnership with Jewish Family Services of St. Paul to offer the
Program to Encourage Active and Rewarding Lives (PEARLS) to rural seniors of all faiths. This program is a free, short-term counseling/life coaching evidenced-based protocol specifically designed for older adults dealing with low mood or depression. The PEARLS program was researched and developed at the University of Washington in Seattle where research discovered that 'behavioral activation' may be as effective as 'cognitive behavioral therapy' in treating depression.
Here are a few statements from seniors who have participated in the program:

"I had no idea what was to take place, so it was a surprise. I shared my bucket list and goals. Not knowing what was really going to take place, I am so grateful [the PEARLS coordinator] was put in my life."

"I know that I've been very depressed for a long time, and I didn't think anyone could help me. I was very wrong. The good Lord sent me [the PEARLS counselor] and put me in touch with [a therapist]."

"The depression test [the PEARLS Counselor] had me do, dropped from "10" to "2". I am so much better. I don't know how she did it"
PEARLS counselors will meet with adults 55 and older in their homes for a one-time assessment, and qualified candidates will be loaned an easy to use iPad to be used for sessions with a counselor. If you are a senior 55 or older, or caretaker to a senior 55 or older experiencing low mood or depression, please call CARE at 320-968-7848 and ask for Connie. You will receive additional information and be able to set up an appointment for enrollment. Please know you are not alone, help is only a phone call away.>